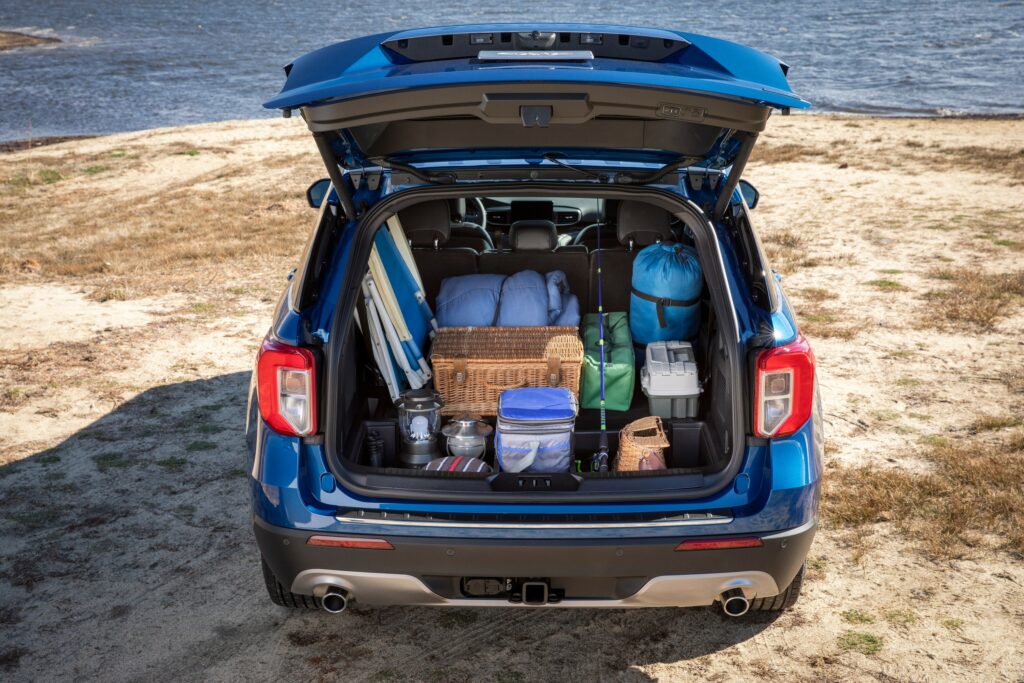 Maximum cargo capacity is important, but—as anyone who has ever packed for a trip knows—there's more to loading and storing cargo than just cargo capacity figures on a spec sheet. Storage compartments, cargo space layout, and even the height of the rear floor can be more important than raw figures. Ford knows that. So, in addition to the Explorer's 2,486 litres of total cargo space, here are five clever ways the 2021 Ford Explorer makes it easier to haul luggage, cargo, and all your family's other items.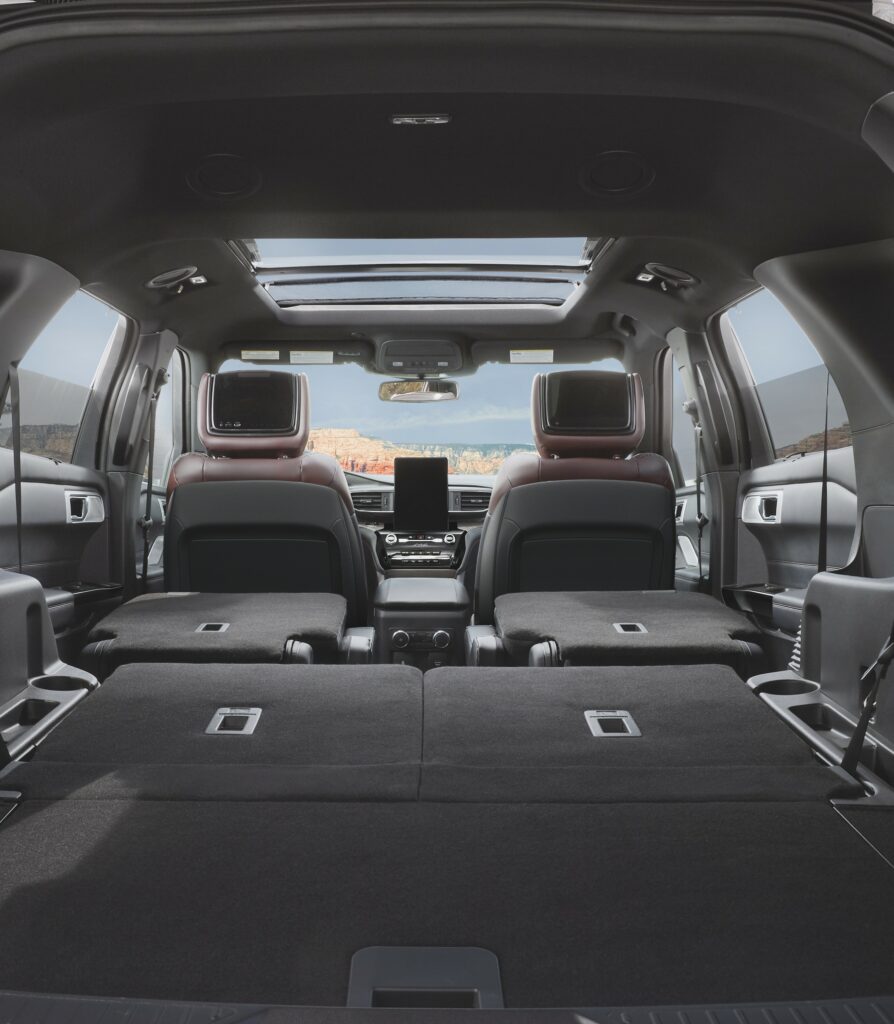 Fold-Flat Seats
Plenty of big SUVs have seats that fold "flat", but not many will give you the near-perfect flat load floor offered by the 2021 Ford Explorer. Whether fitted with second-row Captain's Chairs or bench, the Explorer will swallow up a 4×8 sheet of plywood. And thanks to the flat floor, you don't need to worry about more delicate items, such as a sheet of drywall sitting on a pressure point and cracking. It also makes it easier to slide big boxes in and out, like appliances and flat-pack furniture.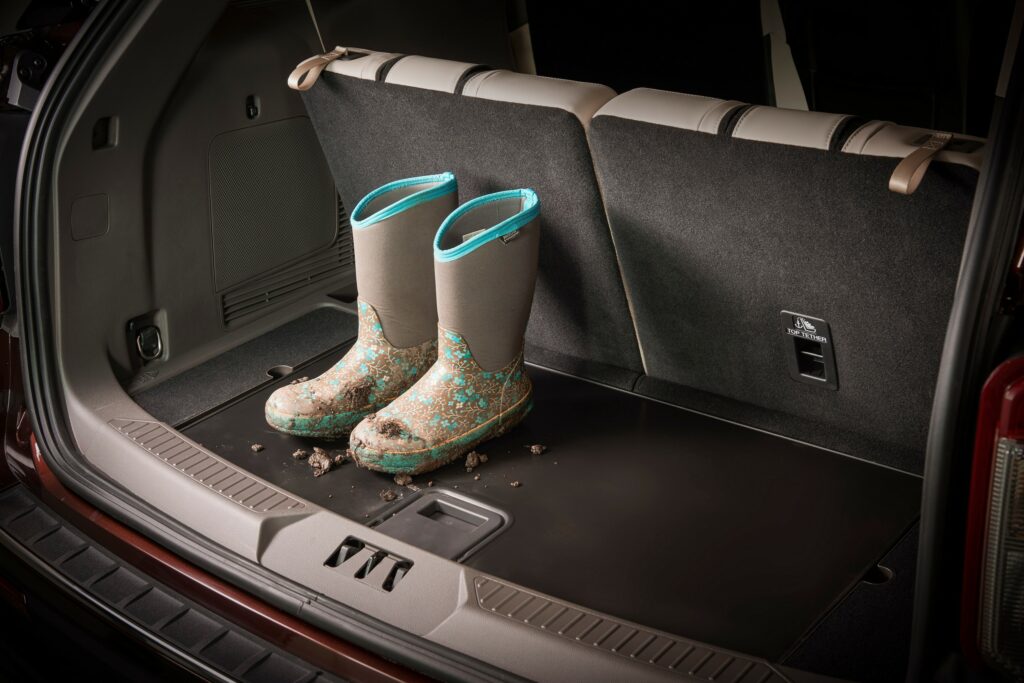 Reversible Cargo Floor
Most SUVs give you a carpeted cargo floor behind the third row. Carpet looks great, dampens some sound, and some items may not slide around as much on it. But when it comes time to bring in the dirty stuff—like boots, camping gear, that chainsaw or lawnmower—every bit of dirt, sand, and mud ends up embedded in the carpet. The 2021 Explorer offers a new reversible load floor cover: one side gives you the fancy-looking carpet you'd expect, the other offers a smooth, easy-to-clean vinyl surface for when the going gets muddy, sandy, dirty, or worse. Don't worry about making a mess. The 2021 Ford Explorer will help you keep it tidy.
Rear Seat Steps
You expect steps on a pickup truck to climb into and out of the box, but how often do you see steps on an SUV? Rear seat steps make it easier to climb in if you're getting into the rear seat of the Explorer, but they're also handy for when your cargo needs to go upward. Tying the Christmas tree to the roof? Securing your skis with your Ford Yakima accessory rack for a run to Ben Eoin, Wentworth, or even Crabbe? Maybe you just need a roof box to help hold the last of your gear. Whatever the reason, you're headed to the roof, and the wide steps at the Explorer's second row make it easier to get there—without standing on tip-toes or having to break out a stepladder.
Endless Cubbies
It's the little things that are the most difficult to store, especially for driver and front passenger. With that in mind, Ford has given the Explorer loads of compartments, starting with the large center console cubby with a closing lid to keep your stuff hidden. You'll find a slot on each side of that console perfect for a light set of winter gloves or a small scraper so they're always close at hand. In summer, those slots are great places to drop a wallet or clutch to keep them out of the way. The available wireless phone charger is under the front edge of the armrest, making use of a space that's normally wasted. It also keeps your phone screen out of sight and out of mind, so you can better interact with your friends through the SYNC3 connected infotainment system with Android Auto and Apple CarPlay.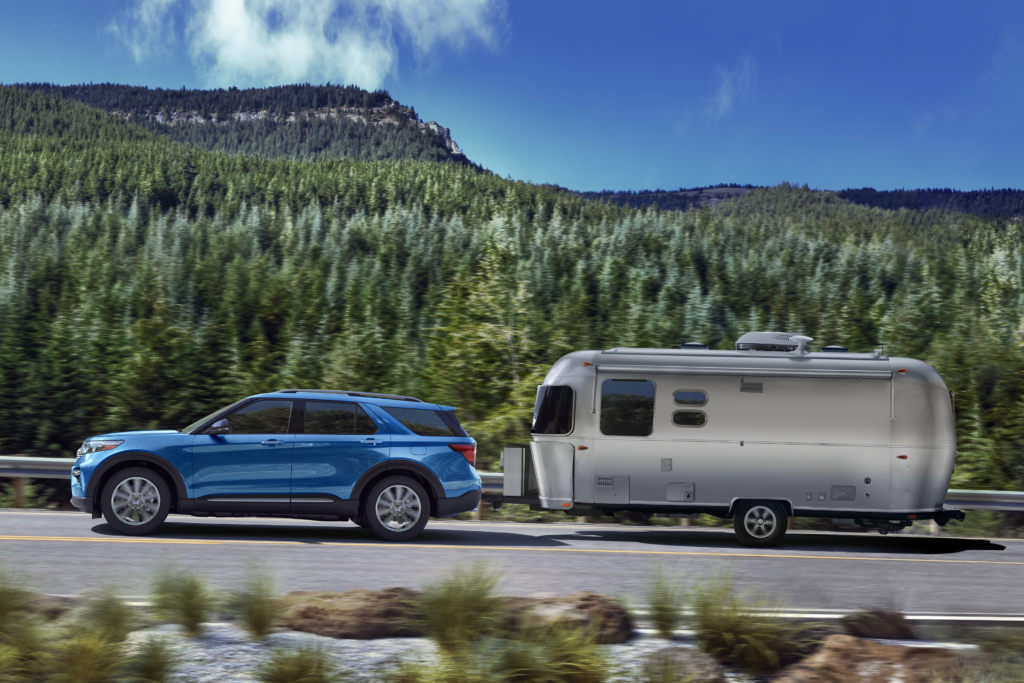 Trailering
No matter how much space there is inside, you can't dump a load of topsoil, gravel, or mulch into the back of an SUV. Ford's built the Explorer to tow that dirty stuff behind it. Equipped with the Class III trailer tow package and the 3.0L EcoBoost V6, the Explorer can tow up to 5,600 lbs. The Hybrid with the same package can to up to 5,000 and the 2.3L EcoBoost four-cylinder can tow up to 5,300 lbs. While the 10-speed automatic helps keep you in the engine's power band to make towing easier, standard trailer sway control adjusts braking and engine power to keep that load of dirt or your summertime camper secure behind you where it belongs. It not only makes you look like a seasoned pro, but the job easier for you every step of the way. (Well, except for the unloading part. That is still going to require some effort.)
View current 2021 Explorer inventory