Please note: We are closed Monday, August 1st for Natal Day, reopening Tuesday, August 2nd.
Ford Co-Pilot 360™: The Complete Suite of Ford Driver Assist Technologies
Driving in today's world, you're prompted by more distractions than ever before. With more distractions comes serious risks to your safety, as well as the safety of others riding with you. Luckily, today's technology has evolved to help drivers stay the course and continue with their journey safely. With Ford's complete Co-Pilot 360™ system, every driver assist technology you can think of is at your disposal. Learn more about the comprehensive safety technology system, here at your Port Hawkesbury Ford dealer!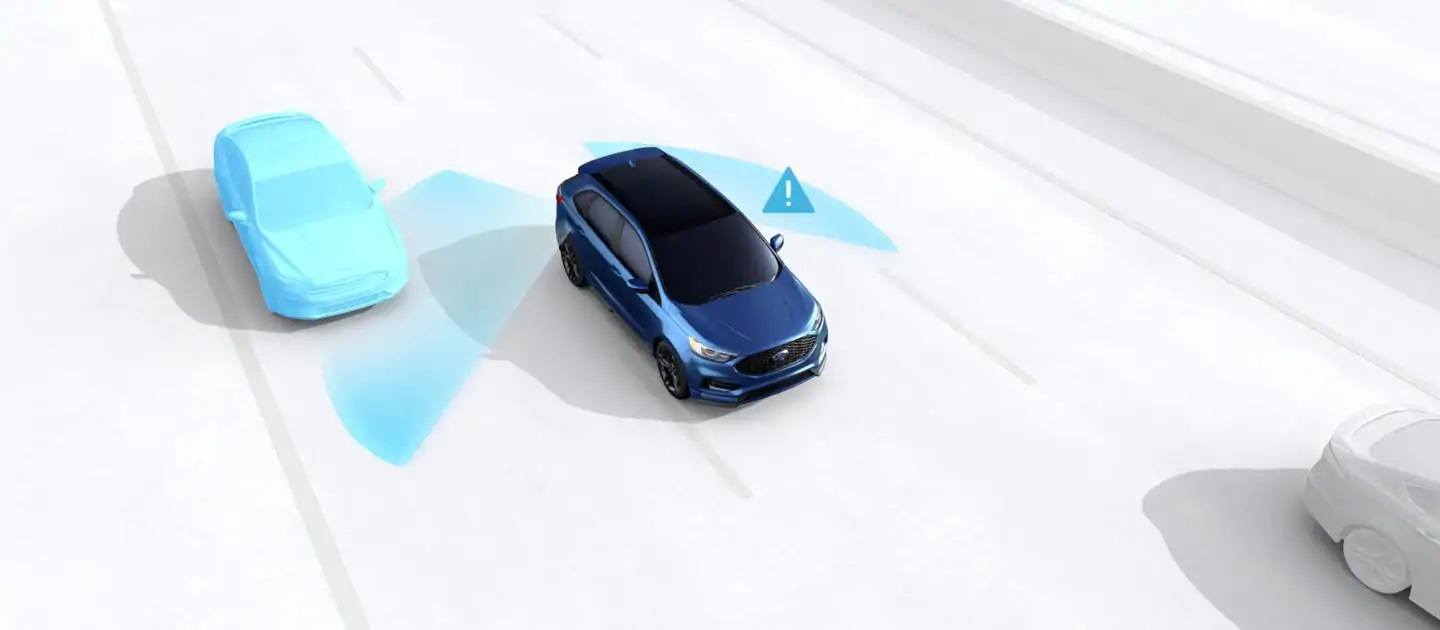 BLIS® (Blind Spot Information System) w/ Cross Traffic Alert
We know we're supposed to shoulder check when driving in Nova Scotia, it can still be difficult to make sure there isn't another vehicle on the other side. Luckily, the BLIS® (Blind Spot Information System) with Cross Traffic Alert lets you know when there's an incoming vehicle on either side of you to help prevent potential accidents from happening.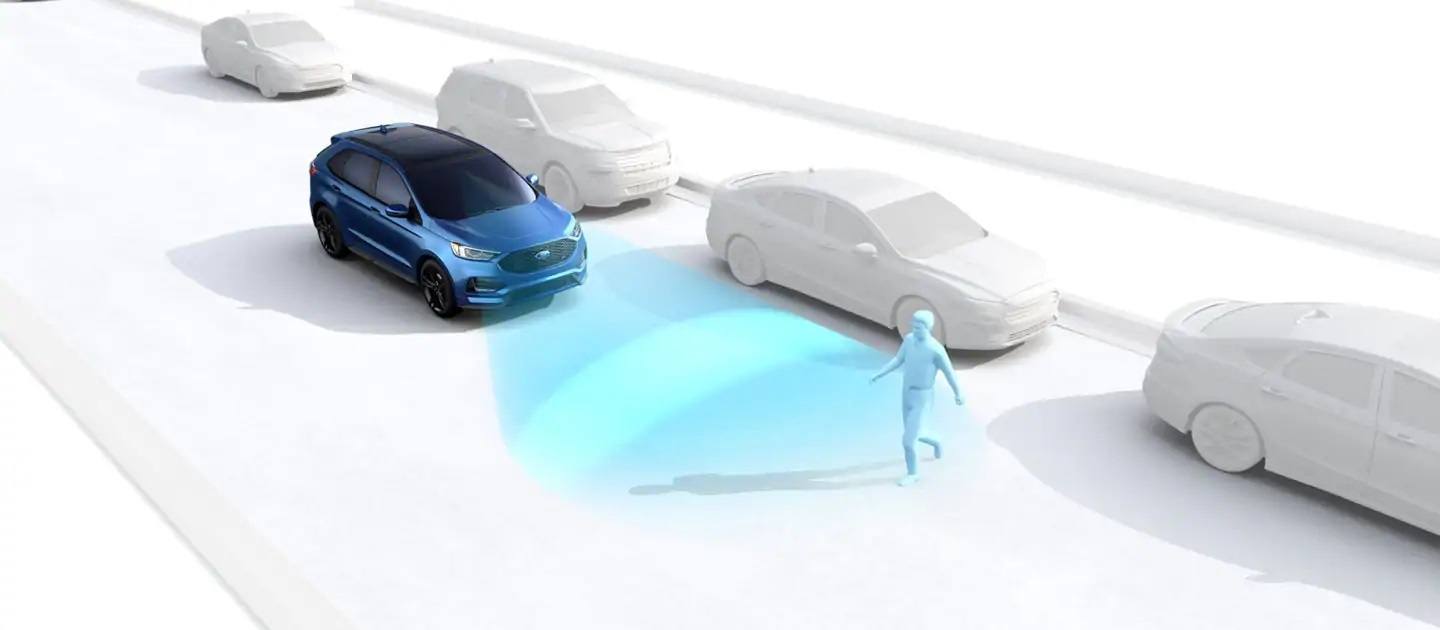 Pre-Collision Assist with Automatic Emergency Braking
The Pre-Collision Assist feature uses camera technology to detect a potential collision with a vehicle or pedestrian directly in front of yours during day or nighttime driving.* It can help reduce the severity of, and in some cases can eliminate, a frontal collision. If a potential collision is detected, an alert sound is emitted and a warning message displays in the message center. If your response is not sufficient, Automatic Emergency Braking (AEB) will precharge and increase brake-assist sensitivity to provide full responsiveness when you do brake. If you don't take corrective action and a collision is imminent, brakes can apply automatically.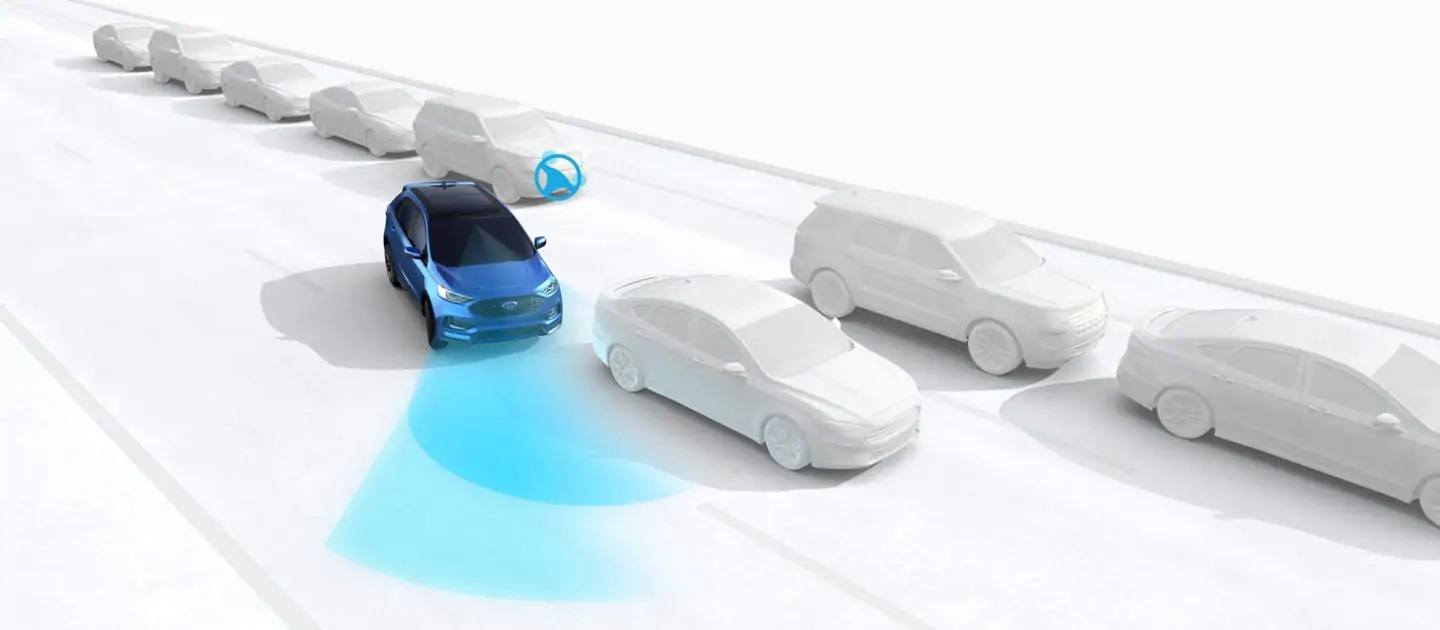 Evasive Steering Assist
It happens. You come upon a slow or stopped vehicle in your path. And you need to take evasive action. That's when available Evasive Steering Assist comes into play, employing the camera and radar sensor technology of the available Pre-Collision Assist with Automatic Emergency Braking to detect the vehicle ahead and apply active braking. If the distance to the vehicle ahead of you isn't too short and a collision can't be avoided by braking alone, Evasive Steering Assist can help you maneuver around the vehicle by providing additional steering support when the effort you're applying is not sufficient.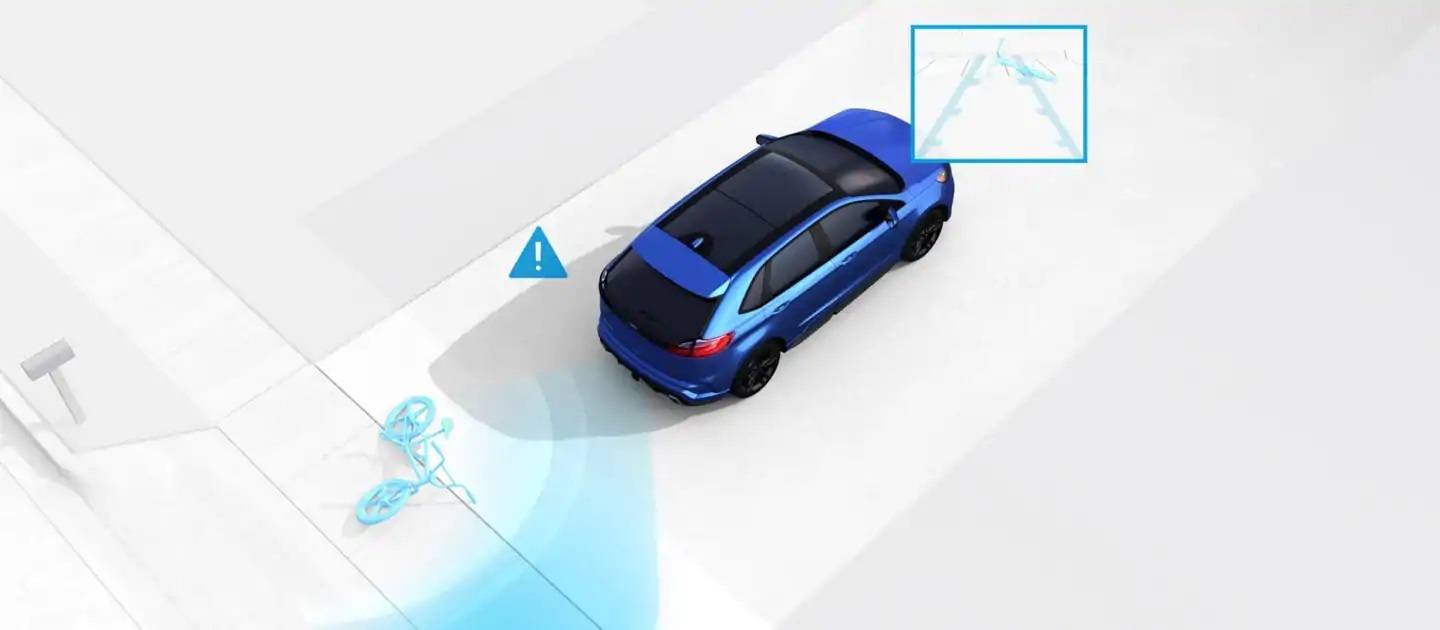 Rear View Camera
Backing up is easier when you when you have camera technology to assist you in seeing what's behind your vehicle. Shift into Reverse to activate the Rear View Camera on your center dash display. You not only get a rear visual when you're slowly backing up, but guidelines help you navigate. Fixed guidelines direct you when you're going straight back. Active guidelines show the path you intend to take when you're backing up on a curve off the straight line. If you're towing a trailer, a center guideline helps you line it up to your trailer hitch. And there are enhanced park aids indicating which side an object is on and how close it is, as well as colored lines showing how close you are moving to an object behind your vehicle.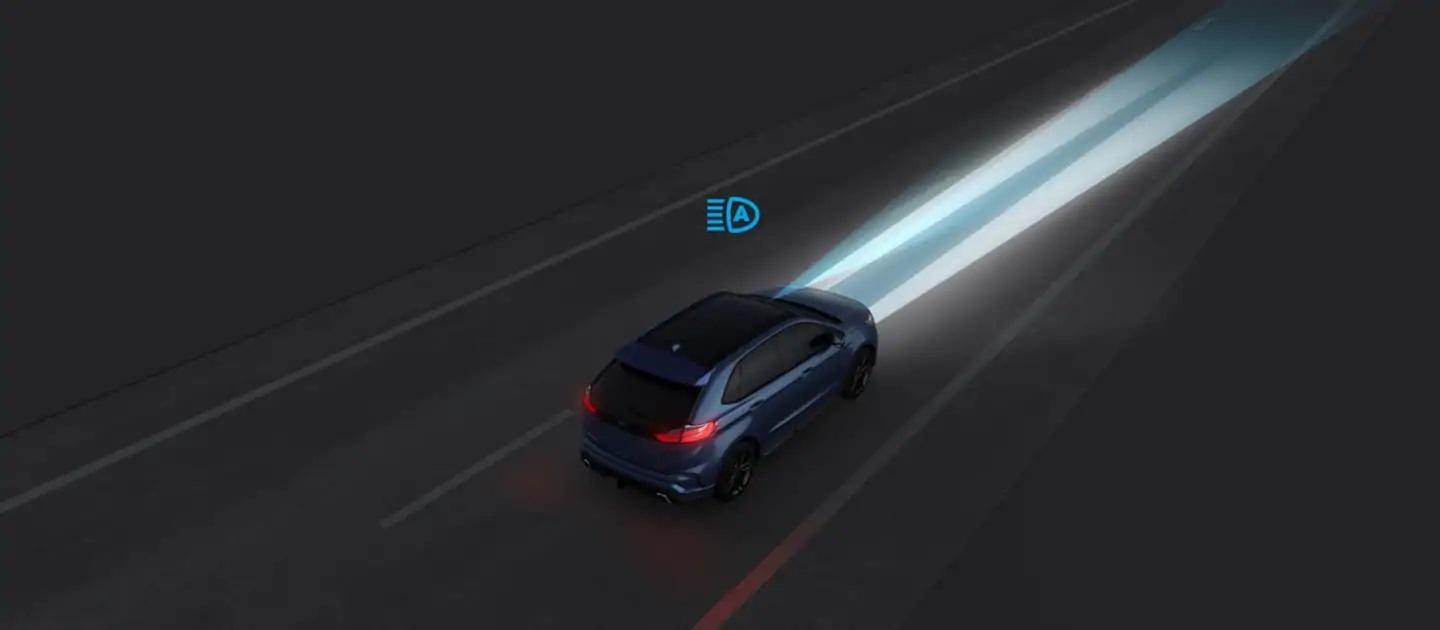 Auto High-Beam Headlamps
You might not think of manually turning your high beams on or off every time you need to. That's why the Auto High-Beam Headlamps feature is so helpful — it can do that for you, automatically. This driver-activated system with windshield-mounted camera scans the road at speeds above 25 miles per hour. When you're on a very dark road with no traffic, the high beams come on. But when a vehicle with headlamps on is approaching up to 2,000 feet or traveling ahead of you with taillamps visible up to 500 feet, the system will dim to low beams to reduce glare and avoid hindering the other motorist.
Pro Trailer Backup Assist™
Backing up a trailer involves navigating two vehicles at the same time — the truck going one way and the trailer going in the opposite direction. Whether you're a novice or a seasoned pro at this often tricky maneuver, available Pro Trailer Backup Assist makes it as easy as turning a knob. After you've entered a few measurements into the system, the camera tracks the trailer position while you are backing up and guiding the trailer.
You simply rotate the knob left or right in the direction you want the trailer to go while the system controls the steering wheel.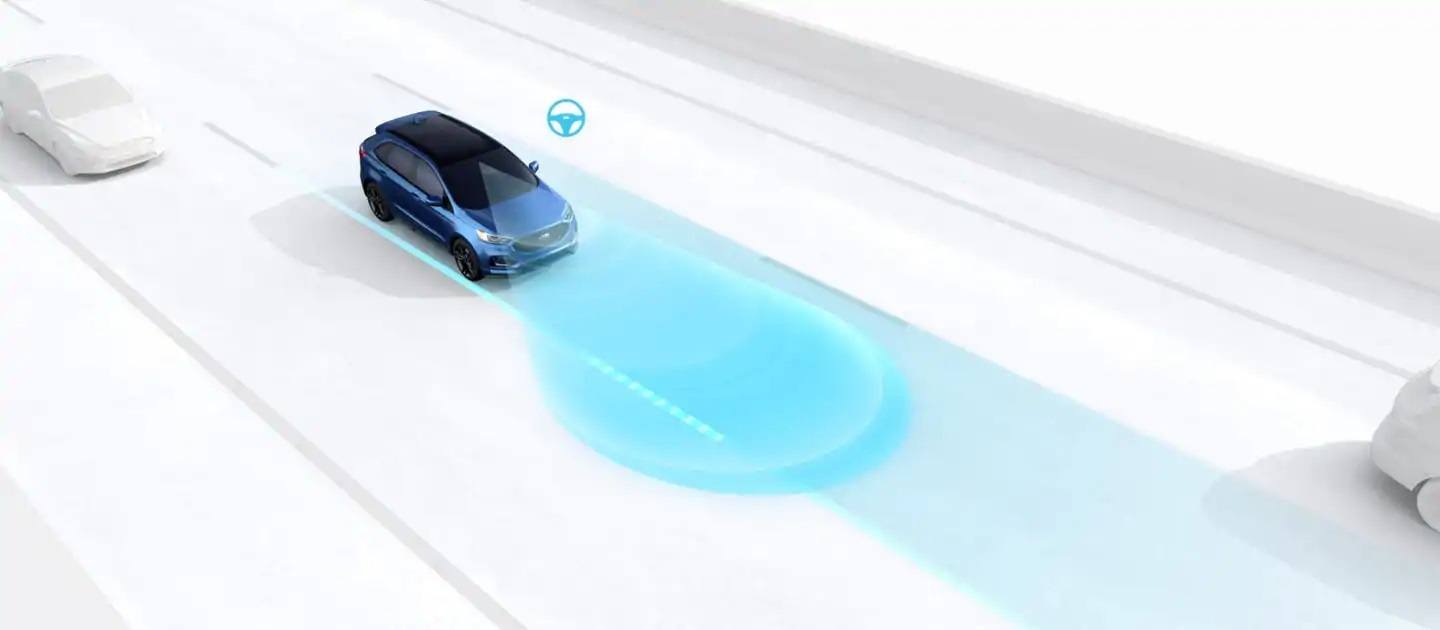 Lane-Keeping System
It happens to the best of drivers. A moment of distraction — and you start drifting. But there's the available Lane-Keeping System that can assist you when this occurs, using a camera that scans lane markings on both sides of your vehicle. The system has three modes: Lane-Keeping Aid applies steering torque to direct you back to the center of the lane. Lane-Keeping Alert warns you through steering wheel vibrations that simulate driving over a rumble strip. You can set the system to activate either the Alert or Aid mode, or both. And Driver Alert sends out warnings in the message center when it detects repeated lane drifts — a reminder to pull over and take a break.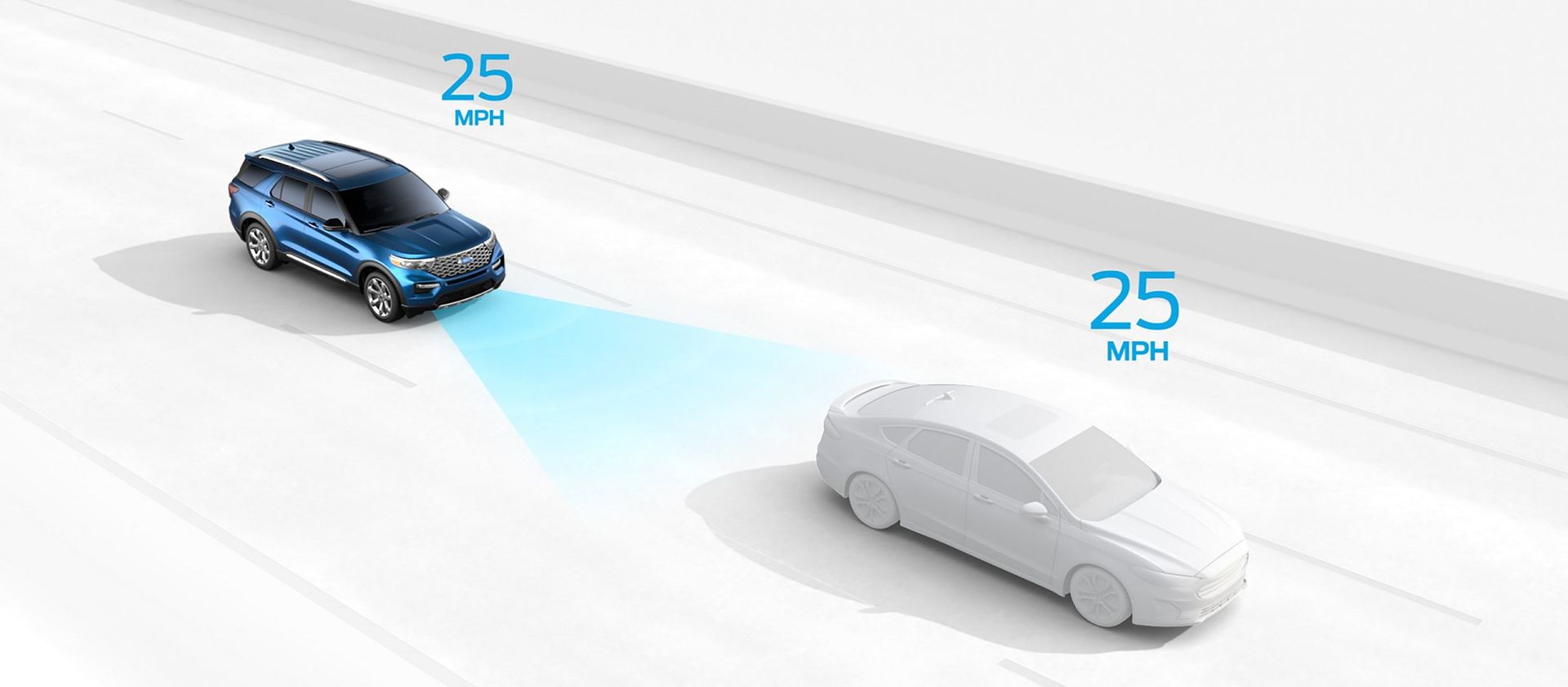 Adaptive Cruise Control
Available on select Ford vehicles is a series of Adaptive Cruise Control (ACC) features employing advanced radar and camera technology.10 ACC lets you set a cruising speed and distance from the vehicle ahead of you. When it slows down, you automatically do too; when traffic picks back up, you resume your preset speed and distance. Then comes ACC with Stop-and-Go, which enables you to come to a complete stop when the vehicle ahead stops.* Now add Lane Centering, which scans the lane markings to help you stay in your lane if the system detects you're drifting out of it. And that's not all. Now there's Intelligent Adaptive Cruise Control, which includes all of these features plus new Speed Sign Recognition that can automatically adjust the set speed of your vehicle to the posted speed limit.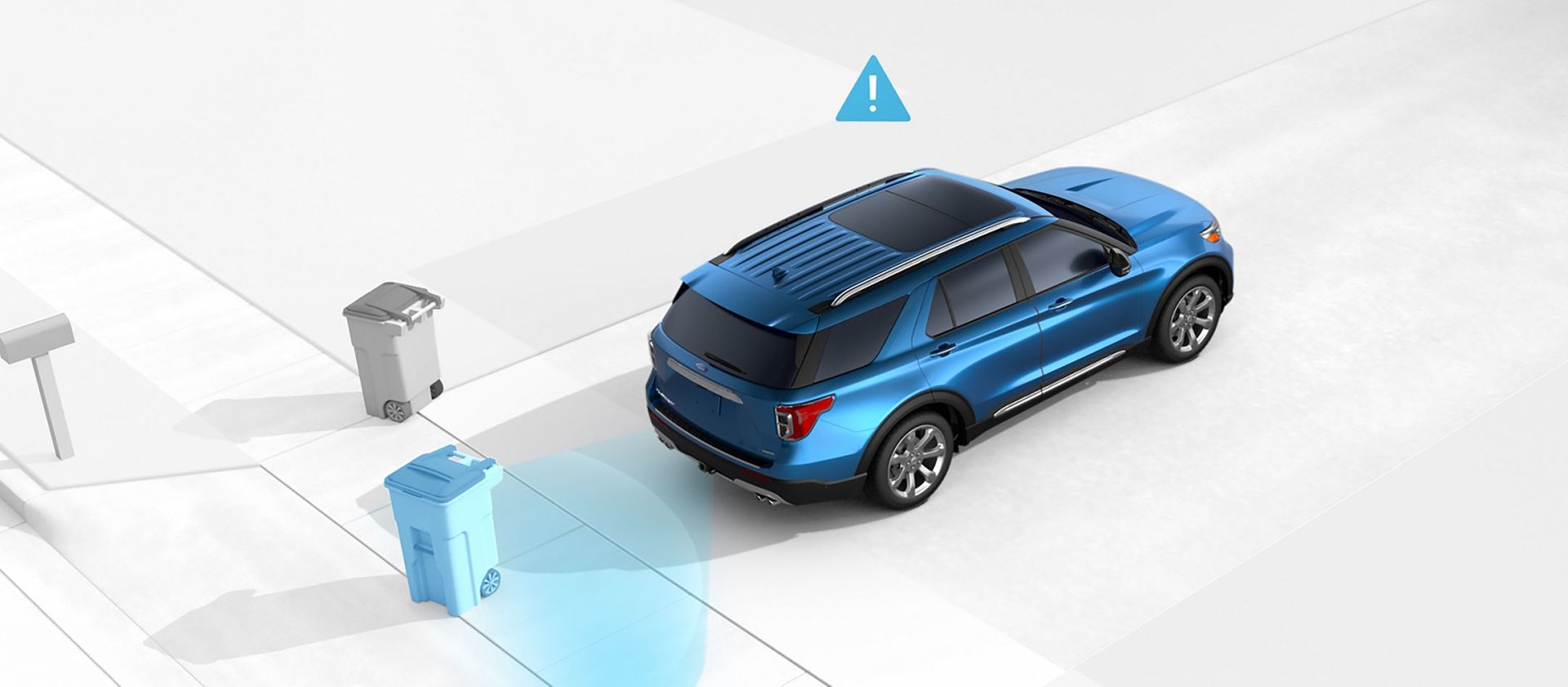 Reverse Brake Assist
Backing up your vehicle isn't easy, especially in a parking garage and other tight spaces. That's when available Reverse Brake Assist can be helpful. During the daytime and when the weather is clear, the system can detect a stationary object, a vehicle crossing, or a pedestrian or cyclist behind you and provide an audible alert. The cross-traffic alert warning can even provide a visual display in the message center showing the direction a vehicle is coming from on a street or parking lot. What's more, Reverse Brake Assist can bring you to a complete stop if you don't react in time, emitting audible and visual warnings before the brakes apply.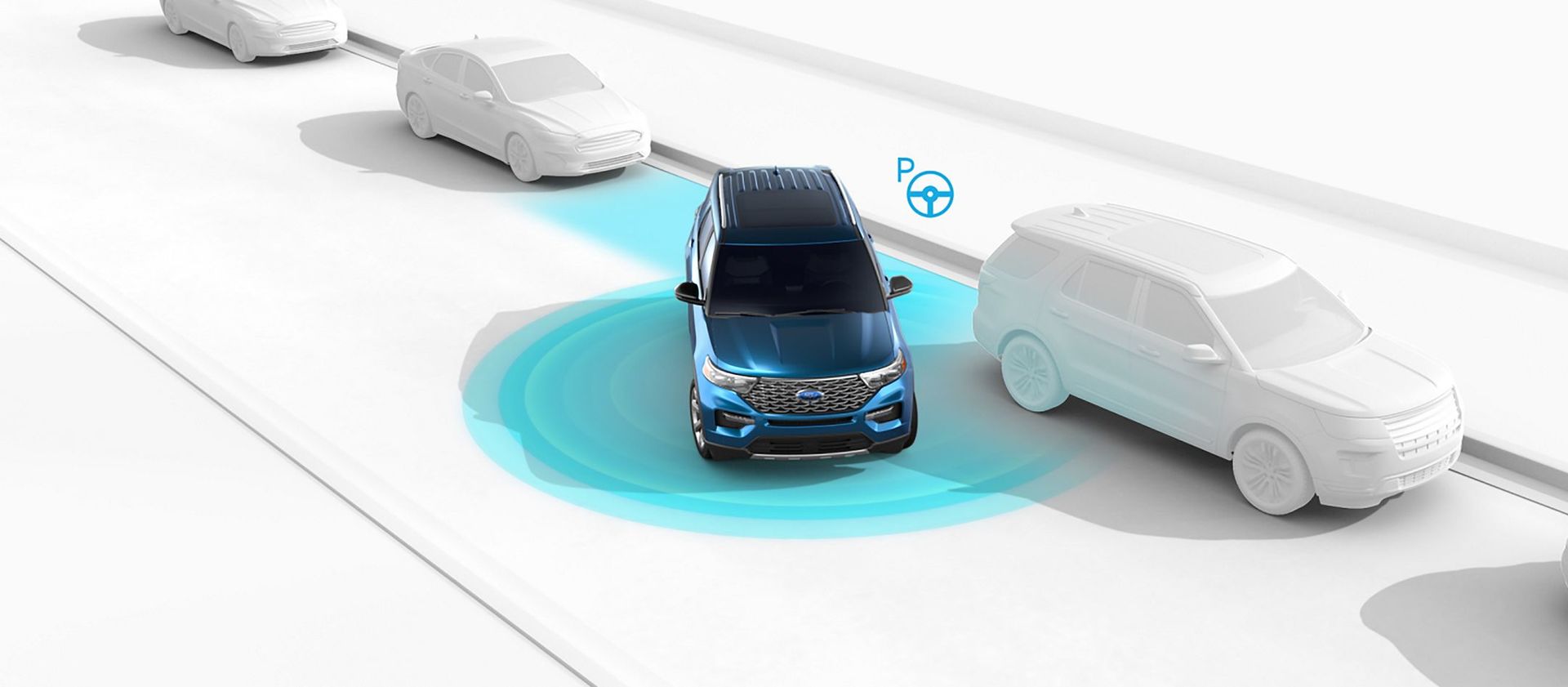 Enhanced Active Park Assist
Available Active Park Assist helps take the anxiety out of parallel parking. Once the system locates a suitable parking space, you shift, accelerate and brake while the system does the steering. It's that simple. And if your vehicle is equipped with Enhanced Active Park Assist, you also get help getting out of a tight parallel parking spot, as well as assistance in reverse perpendicular parking. And now, on select 2020 Ford models, you can take the ease of this system a major step further. Just about every operation is now done for you. Depressing the Active Park Assist 2.0 button scans for a suitable parking spot. After stopping, you shift into Neutral, release the brake pedal and hold down the park assist button. The system does the rest — steering, shifting, braking and accelerating. Could it get much easier than this?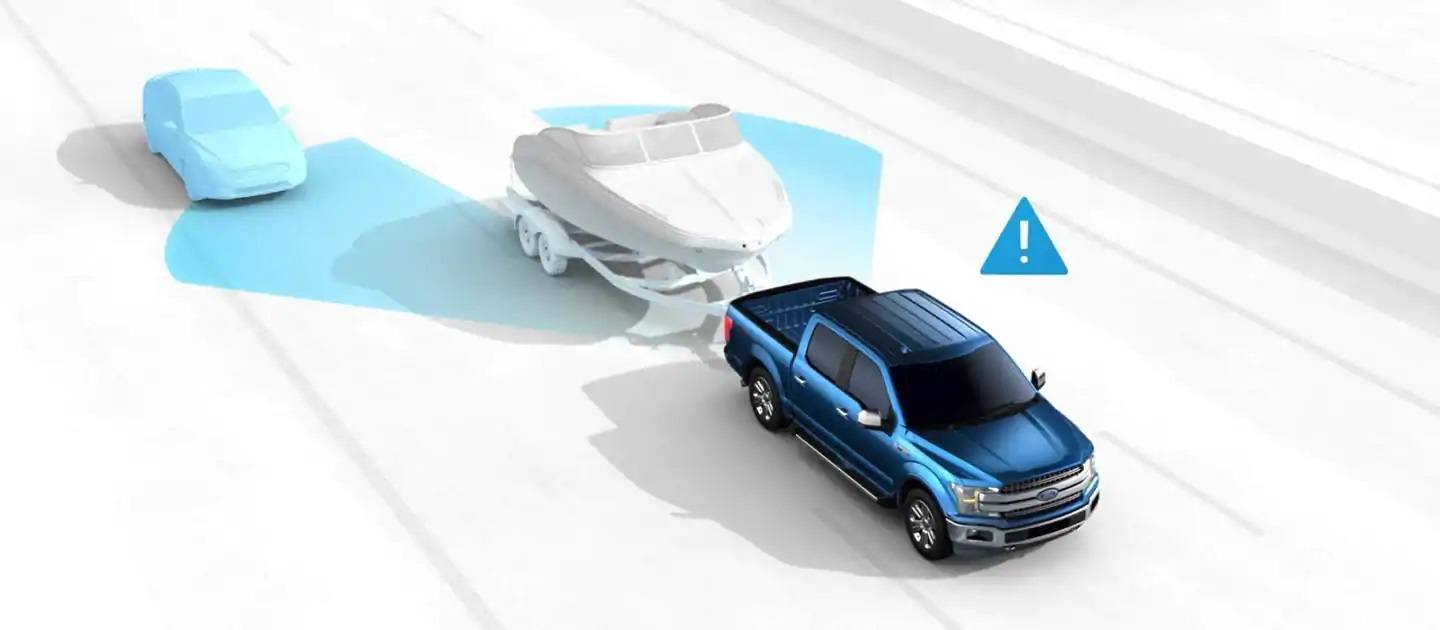 BLIS® with Trailer Coverage
If you drive a Ford pickup or full-size SUV and pull a large trailer, an enhanced version of available BLIS® (Blind Spot Information System) with Cross-Traffic Alert is offered especially for you. It provides coverage for not only the truck you're driving but also the conventional trailer you're towing. The system supports conventional trailers only and automatically turns off if you select a fifth-wheel or gooseneck trailer. Trailer dimensions up to 9 feet wide (measured at the trailer front) and up to 33 feet long can be input into the system.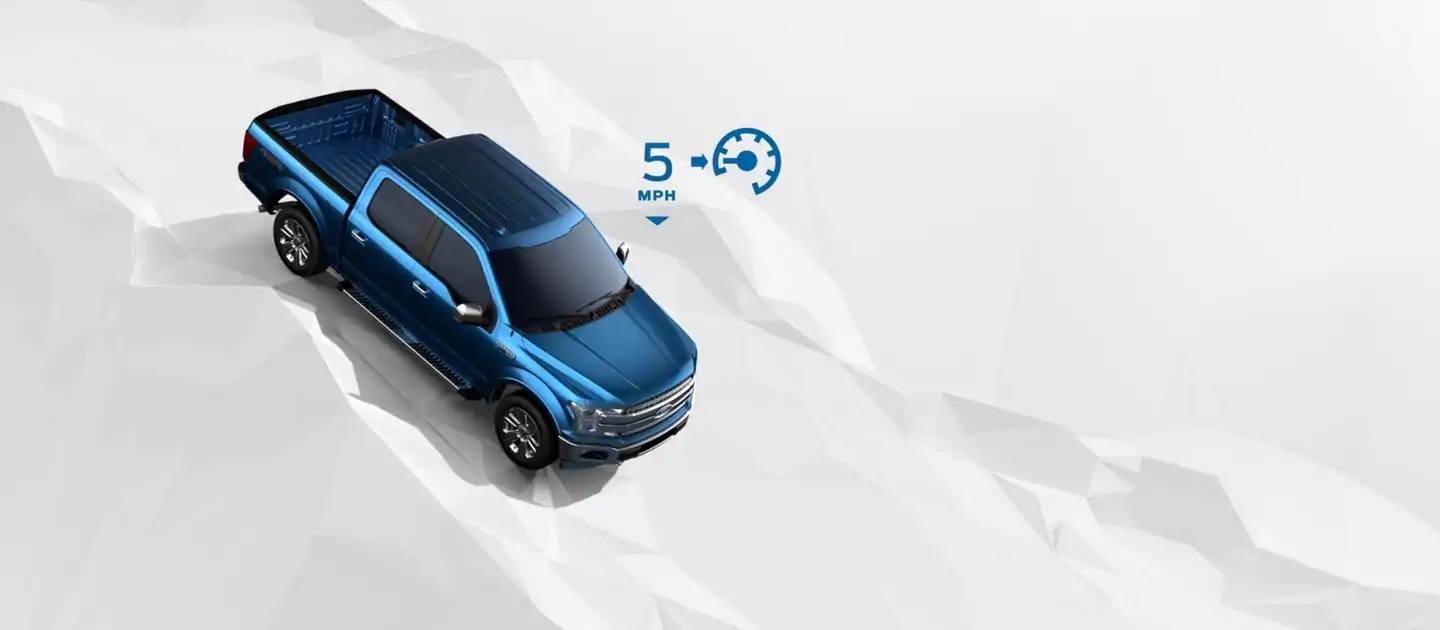 Hill Descent Control™
Available Hill Descent Control is essentially a cruise control system that uses traction control technology with anti-lock brakes. This system continually adjusts braking pressure to help control slippage and maintain a constant preset speed while you are going down a steep grade. This capability helps you concentrate on steering since you don't have to apply the brakes or downshift the transmission. On a downhill grade, Hill Descent Control can maintain a vehicle speed between 2 and 12 mph. Above 20 mph, the system remains activated, but the descent speed cannot be set until you are below 20 mph again.