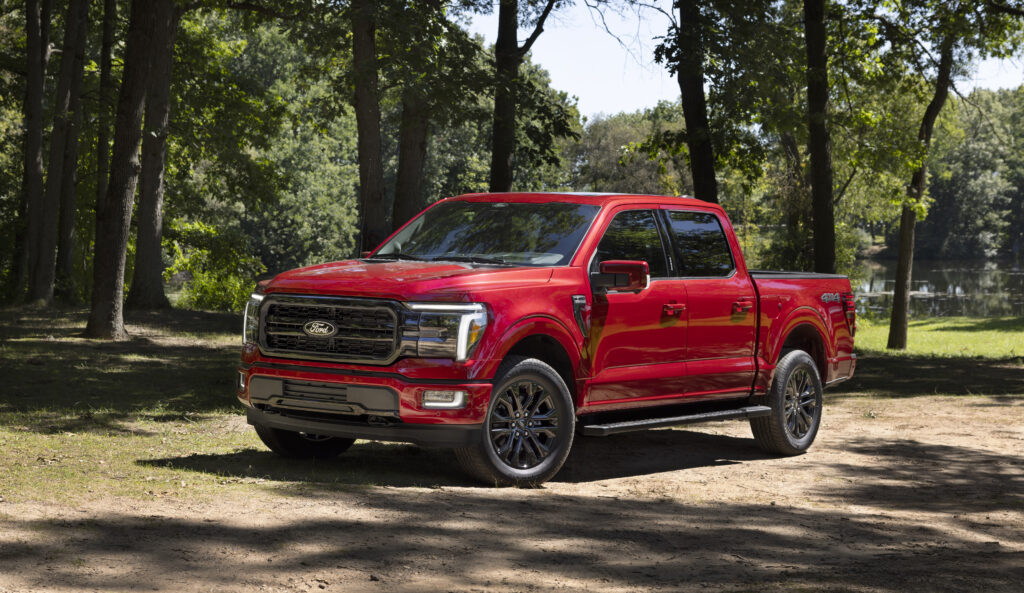 At the Detroit Auto Show, Ford unveiled its all-new Ford F-150 2024. The best-selling pickup truck in the country (we don't want to brag, but it's also the best-selling vehicle in any class) undergoes a few minor changes.
But the changes aren't just cosmetic. Some will add to the practicality and versatility of our big truck. Here are five things that have changed on the Ford F-150 2024.
A new Grille
The Ford F-150 is recognizable from afar. Its styling has long been recognized, and true enthusiasts know it. The new model, therefore, retains a familiar look but with a slightly different grille.
The grille now spans the full width of the truck, incorporating standard LED headlights and a new Ford logo.
A more Practical Tailgate
The Pro Access tailgate on the new Ford F-150 is nothing short of brilliant. Basically, the way it's opened has been modified to provide better access to the gearbox. It's a hinged door (i.e., one that opens sideways) located in the middle of the tailgate, with three opening positions up to 100 degrees (and one position that prevents the door from hitting the trailer hitch). It provides easy access to the new lockable storage compartment in the lower left-hand corner of the body.
No more 3.3 Litres
Because Ford is committed to economy and efficiency, we've decided to retire the brand's 3.3-liter V6 engine. More economical yet just as powerful and capable, the 325-hp 2.7-liter Ecoboost V6 will be the base engine from now on.
More Hybrids
The Powerboost remains unchanged. Why change something that works, say the experts? But it's working so well that we're struggling to keep up with demand. So we're doubling production of the F-150 hybrid and promising that its price will be close to that of the 3.5-litre V6. Not bad, eh?
More Standard Accessories
Have you ordered a Ford F-150 recently? Simply choosing the version and options could take a long time. The composition of the new 2024 F-150s will be greatly facilitated by the addition of several standard features.
This is particularly true of the 12-inch screens, now offered on all versions without option. The same goes for the trailer hitch and LED headlights. Of course, you'll still be able to customize your Ford truck, but many options will be grouped together in packages for greater convenience.
So, are you ready to order your new Ford F-150 2024?