 The Ford Bronco Sport comes loaded with off-road and all-terrain capability, but that doesn't mean you need to be a rock crawler or run through mud puddles ever morning to get enjoyment from your new ride. Have you looked at our roads lately? Just driving into town is an off-road adventure these days! Here are seven ways the Bronco Sport can make that trip easier and more enjoyable.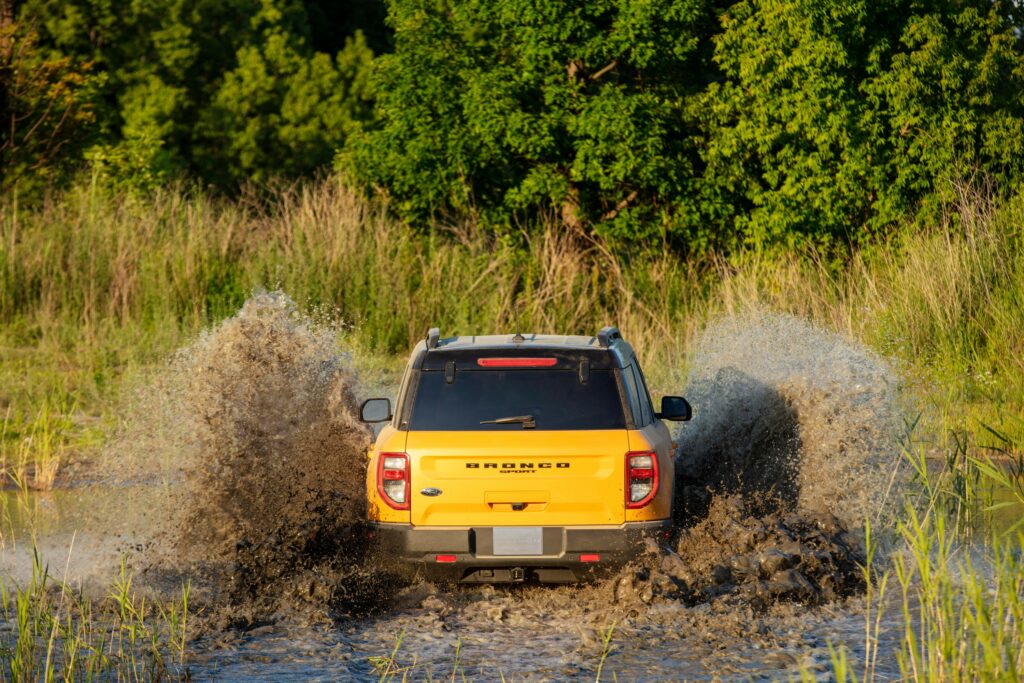 Standard 4×4
With four-wheel drive standard on every single Bronco Sport, you can climb up sand dunes and rocky trails, but you can also get up that icy driveway. When winter conditions mean it's suddenly and unexpectedly snowing at the top of Mount Thom, you're shepherded with confidence-inspiring traction, allowing you to get back home or into town in some of the worst weather winter has to offer. Badlands models get an even more advanced system that lets you lock the rear differential to make sure you can find traction on nearly any surface, from heavy snow to that barely travelled logging road in middle of The Highlands.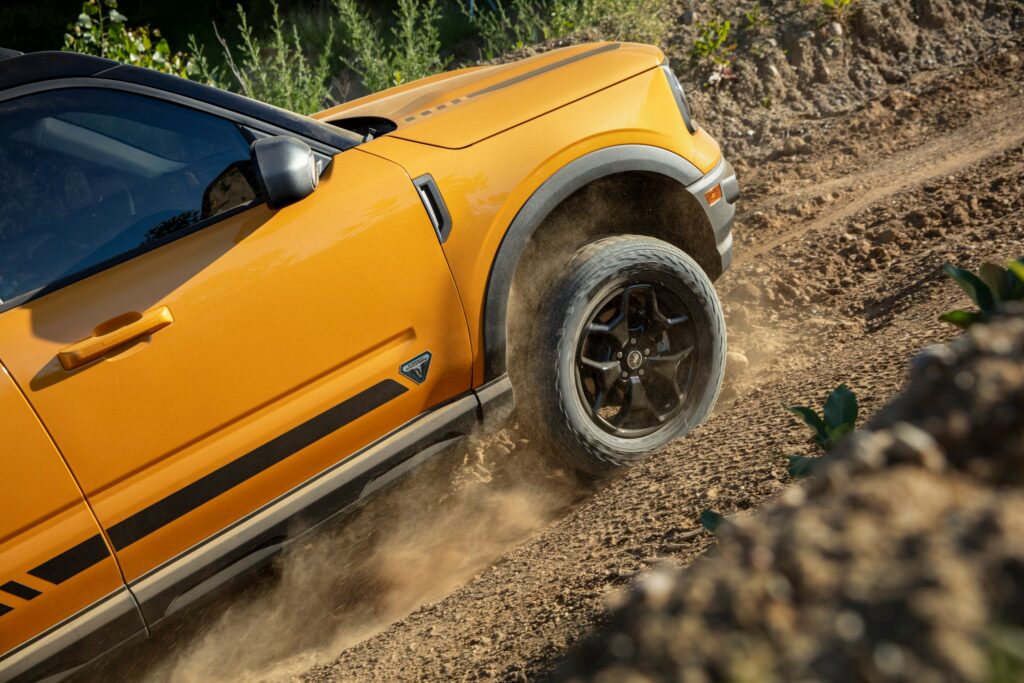 Long-travel Suspension
With 7.44 inches of suspension movement, the Bronco Sport can let the tires move up and down to help them stick to terrain when you're driving over large obstacles like logs and rocks. That capability isn't wasted on the road. Long-travel suspension gives the shocks plenty of time to soften out impacts on your everyday drives. If the suspension is designed to drive over logs, it means cracks, expansion joints, and frost heaves are no challenge at all. The Badlands model has specially tuned front struts and rear shocks that help the Bronco Sport soak up back roads with even more comfort.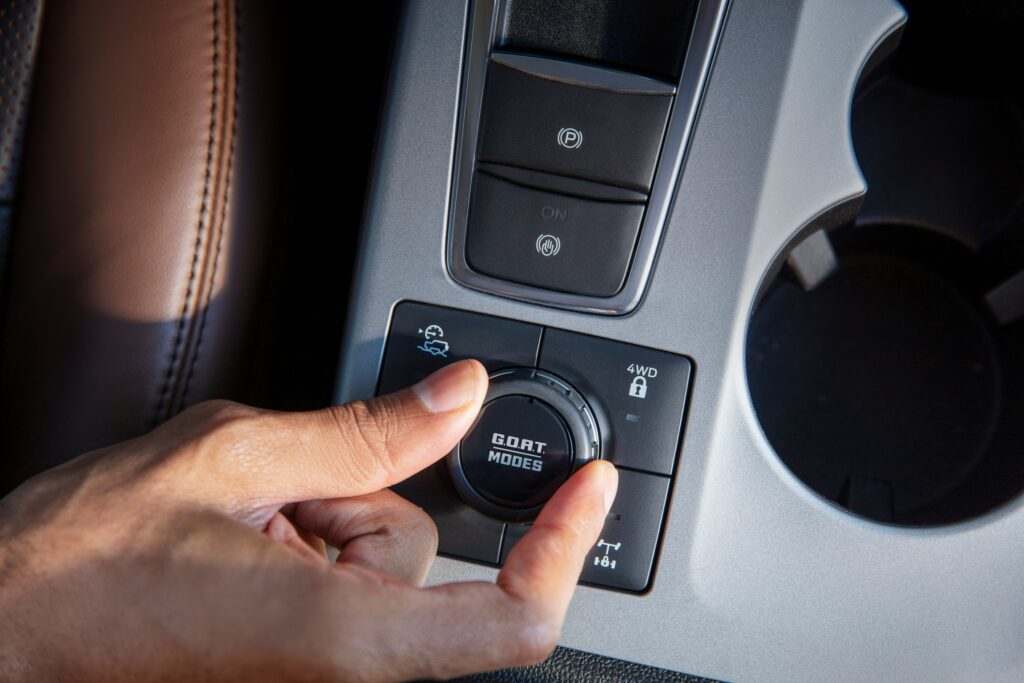 G.O.A.T Modes
Don't worry about getting the horns with the Ford Bronco Sport's five standard (and optional seven) G.O.A.T. Modes. It stands for Goes Over Any Terrain, and even the Base trim Bronco Sport benefits. Normal, Eco, Sport, Slippery, and Sand modes adjust the throttle response, when the transmission shifts, and how the brakes act and feel. The Badlands model adds Mud/Ruts and Rock Crawl. The modes make driving on different surfaces easier, thanks to tweaks like putting a damper on the throttle in Slippery so you don't spin the tires when you start off—perfect for winter or gravel roads. Eco, of course, is good for saving fuel when you're making the long drive into the city.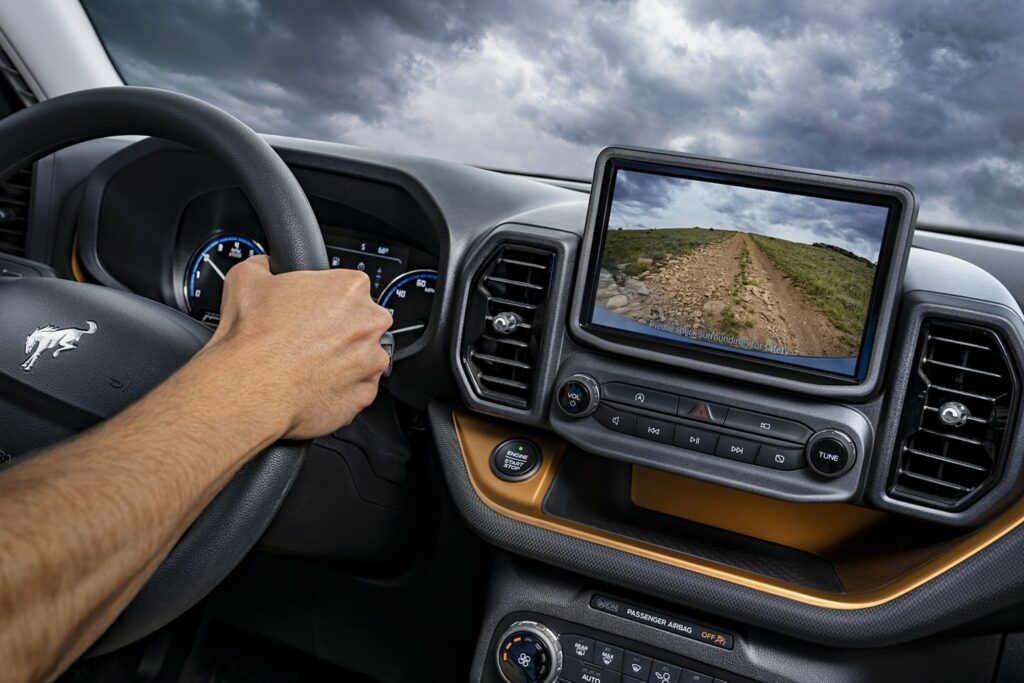 Front Off-Road Camera
A camera mounted in the nose of the Bronco Sport Badlands lets you see the trail directly in front of you, but it's useful when you're not worried about bashing over rocks too. Especially thanks to the built-in washer spray that clears mud, dust, and salt from the lens, the camera is perfect for getting in and out of tight parking spaces. Forget that tennis ball dangling from the garage ceiling. Push the button for the camera and you can park as close to (or far from) that wall as you want to.
Learn more about the 2021 Bronco Sport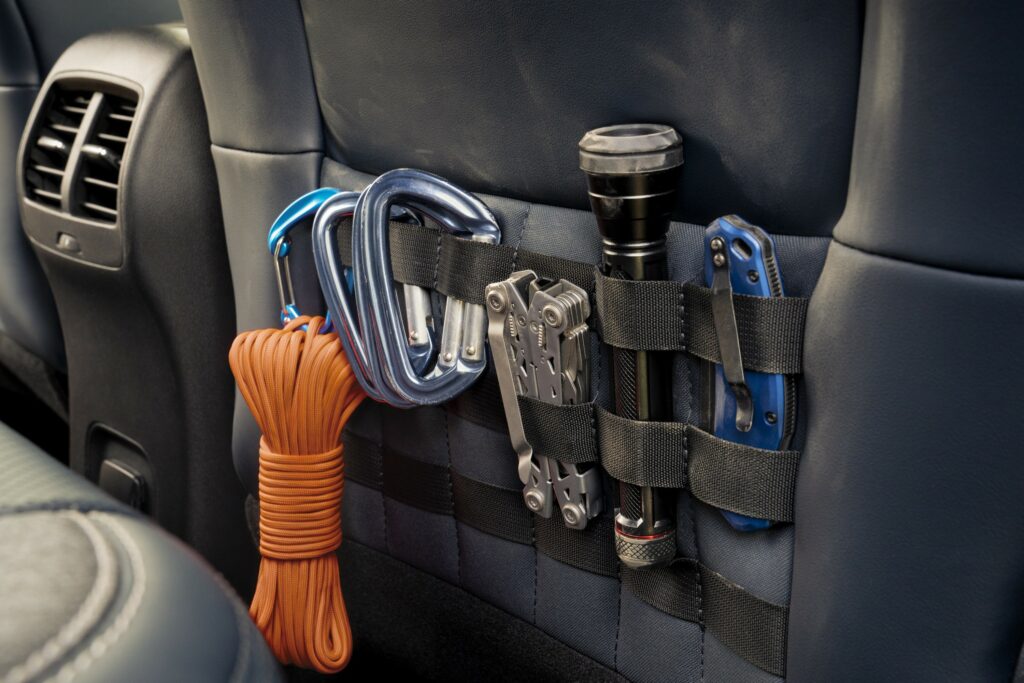 MOLLE Straps
MOLLE straps (call them Molly straps) on the seatbacks of the Bronco Sport Big Bend and higher trims are just like what you'd see used by armed forces around the world to secure their mission-critical gear. Designed to keep your cargo in place when you're jumping from an airplane or marching through a forest, they'll also do a great job of keeping your bags where you want them when you're coming home with your family's weekly rations. Working with those straps are zippered pockets in the seatbacks that will keep maps, gloves, and your Tims card firmly in place during trail riding or in everyday driving.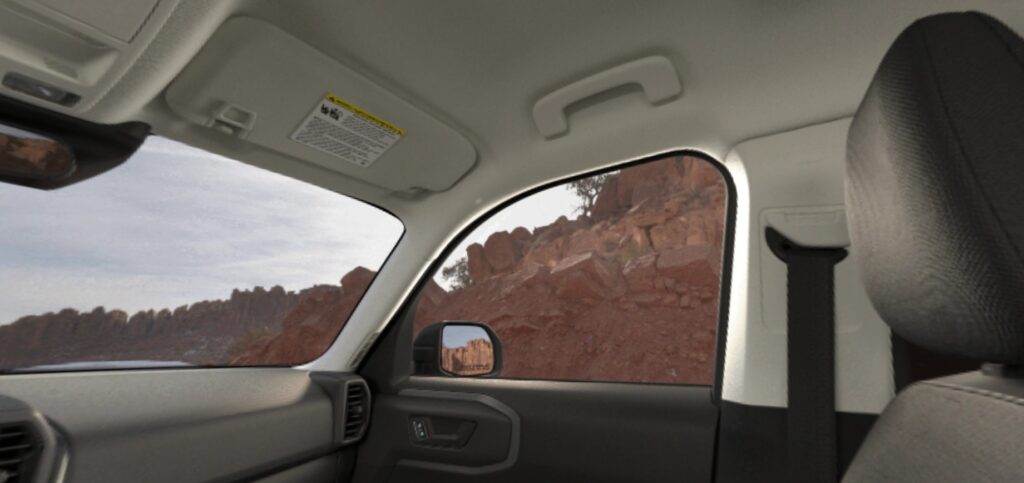 Grab Handles
Grab handles in the Bronco Sport are there so you have something to hold onto when you're a passenger and the driver is tossing you over ruts, bumps, and other off-road punishment. You might call them the "oh crap!" handles, but they're just as handy when you're a passenger and 16-year-old Jacob or Emily is just learning to drive. It might not make the experience any better, but maybe it'll help keep you a little bit calmer. (Or at least give you something to hold onto instead of grabbing for the wheel.) Oh, and the Bronco Sport's available all-terrain tires offer plenty of sidewall protection as your kids learn more about curbs and how to miss them. Passengers in the back get those beefy handles, too, for getting in and holding on.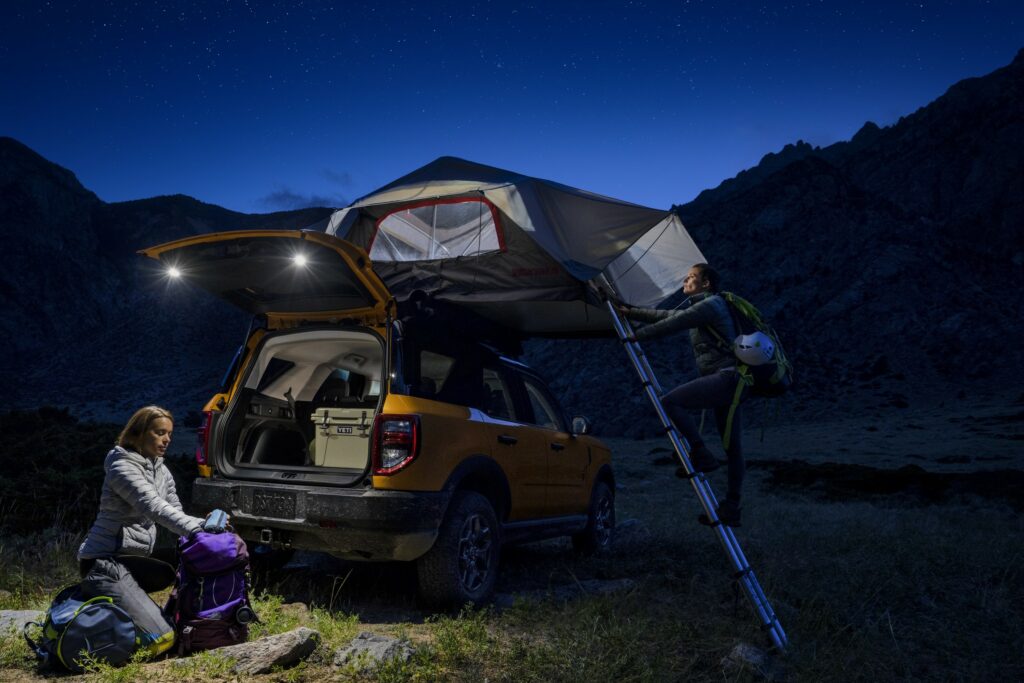 LED Floodlights
The adjustable LED floodlights mounted in the tailgate are for those dark nights on the trail when it's time to set up camp but you've waited far too long and you're well into the deep of night. Even if you don't camp, these lights are handy any time it's dark. Grabbing the groceries or your dog out of the hatch? No problem with the Bronco Sport's floodlights on. Need some extra light for the backyard bonfire, the dark lot behind the rink, or unloading at the cottage after sunset? The Bronco Sport is lit, making sure you can see what you're doing. No hat, glove, or shoe will be left behind.
View current 2021 Bronco Sport inventory