Please note: We are closed Monday, August 1st for Natal Day, reopening Tuesday, August 2nd.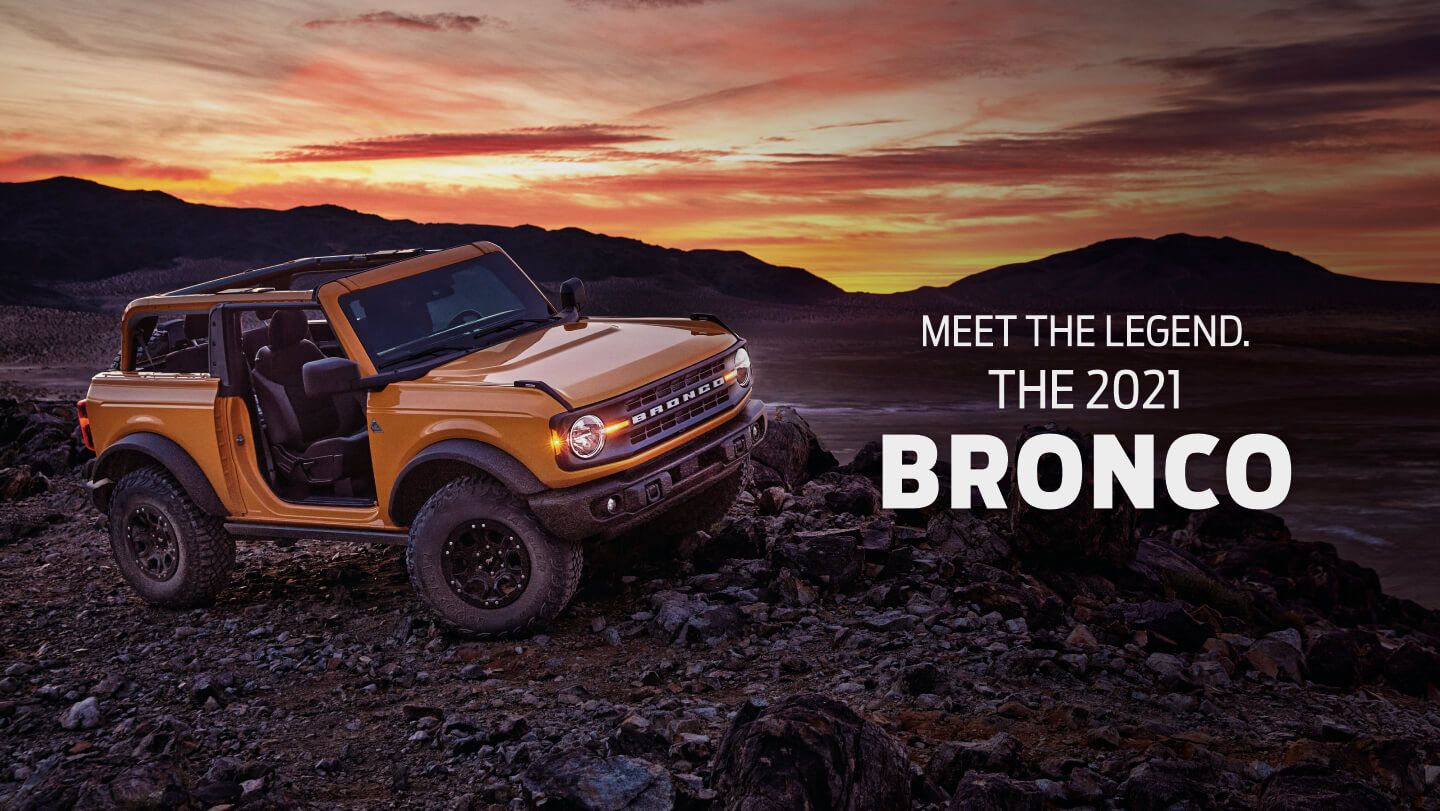 2021 Ford Bronco
It's probably the most anticipated vehicle of the year. The Ford Bronco is reborn after several years of absence, and it promises to be more efficient than ever. The modern silhouette and exceptional off-road capabilities of Bronco will bring it back to the legendary status it had acquired over decades.
The Legend, Reborn
The new Ford Bronco obviously benefits from all the latest technological developments. And the versions offered, with two or four doors (a first in Bronco history), will make it possible to reach all enthusiasts who want a spectacular vehicle to suit their own tastes.
Physically, the new Bronco is inspired by its predecessor by taking sharp angles at the four corners of the body. While the oval headlights with symmetrical lines shine proudly on each 2021 Bronco, Ford has designed a plethora of front grille options, some of which are inspired by past Broncos while others are decidedly modern.
The hood is distinguished by easily identifiable folds and hooks with multiple roles, including serving as a benchmark for the driver and facilitating off-road traffic in tighter areas. The whole overcomes oversized wheel arches, which can, at the buyer's choice, house tires up to 35 inches directly from the manufacturer thanks to an available Sasquatch Package.
Get Up Close to the Great Outdoors
We can't talk about Bronco without talking about the removable doors and roof. These can even be stored behind the rear seats in individual carrying cases.
The roof can be removed in sections, allowing sunlight to pass through the front seats or the entire cabin. There is also no transverse suspended upright, which means that the experience is totally open, like a traditional convertible.
Under the Hood
The Bronco has a fabulous look and unique off-roading capabilities backed up by two powerful engines. A turbocharged 2.3L EcoBoost shared with the Ford Ranger develops 270 horsepower and 310 pound-feet of torque. It can, as desired, be combined with a 10-speed automatic or a 7-speed manual gearbox.
A 2.7-litre twin-turbo V6 engine with 310 horsepower and 400 lb-ft of torque is only available in conjunction with the automatic transmission. Lockable front and rear differentials and a solid Dana 44 rear axle complete the vehicle's mechanical layout.
Extreme Performance
The Ford Bronco is equipped with a selector of driving modes specific to the terrain, called G.O.A.T. (Goes Over Any Terrain) Modes. The modes adjust the Bronco's behaviour to operate at its peak under various conditions, like Baja, Slippery and Sand, Mud / Ruts and Rock Crawl.
Technology continues inside. The new SYNC4 infotainment system is even more useful by displaying 360-degree views of the Bronco, providing information on off-road telemetry and displaying expertly developed off-road maps with navigation using AccuTerra of NeoTreks, Trails Offroad trail guides and FunTreks trail guides. It is capable of over-the-air live updates (OTA), which can be installed at the most convenient time for you, such as at night when the Bronco is parked.
The list of technical characteristics of the Ford Bronco is still long. Now we just have to get behind the wheel.
TO REMEMBER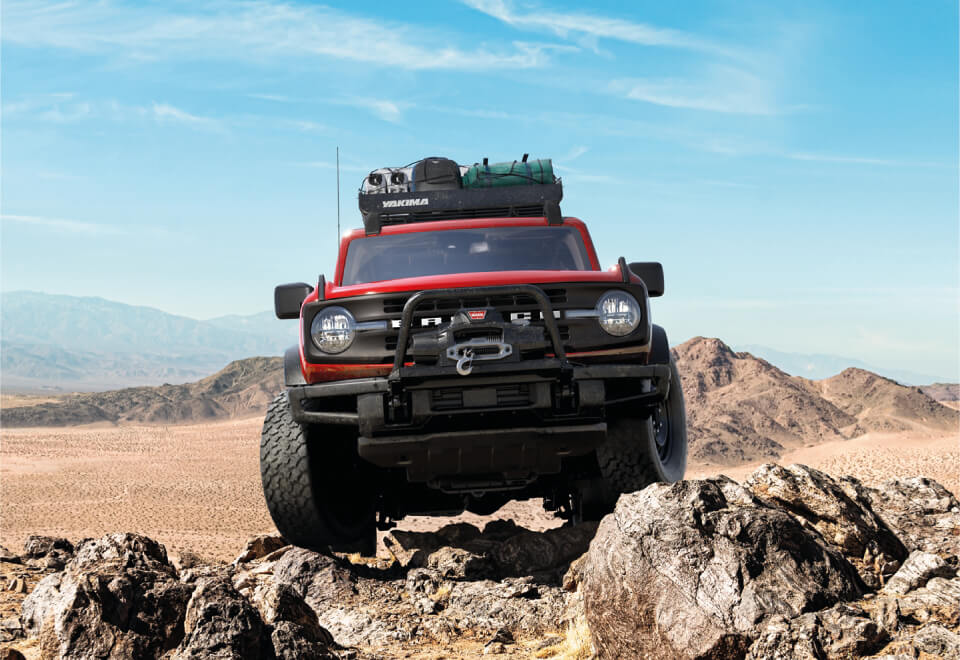 Seating for 5
6 models: Base, Big Bend, Black Diamond, Outer Banks, Badlands and Wildtrak
2 or 4 doors
Removable Roof and Doors
2.3L EcoBoost® Engine or 2.7L EcoBoost® Engine (requires automatic transmission)
7-Speed Manual Transmission or 10-Speed Automatic Transmission
Selectable G.O.A.T Modes
House tires up to 35 inches from factory (optional)
SYNC4 infotainment system
Customizable with hundreds of Ford accessories
Starting at $40,499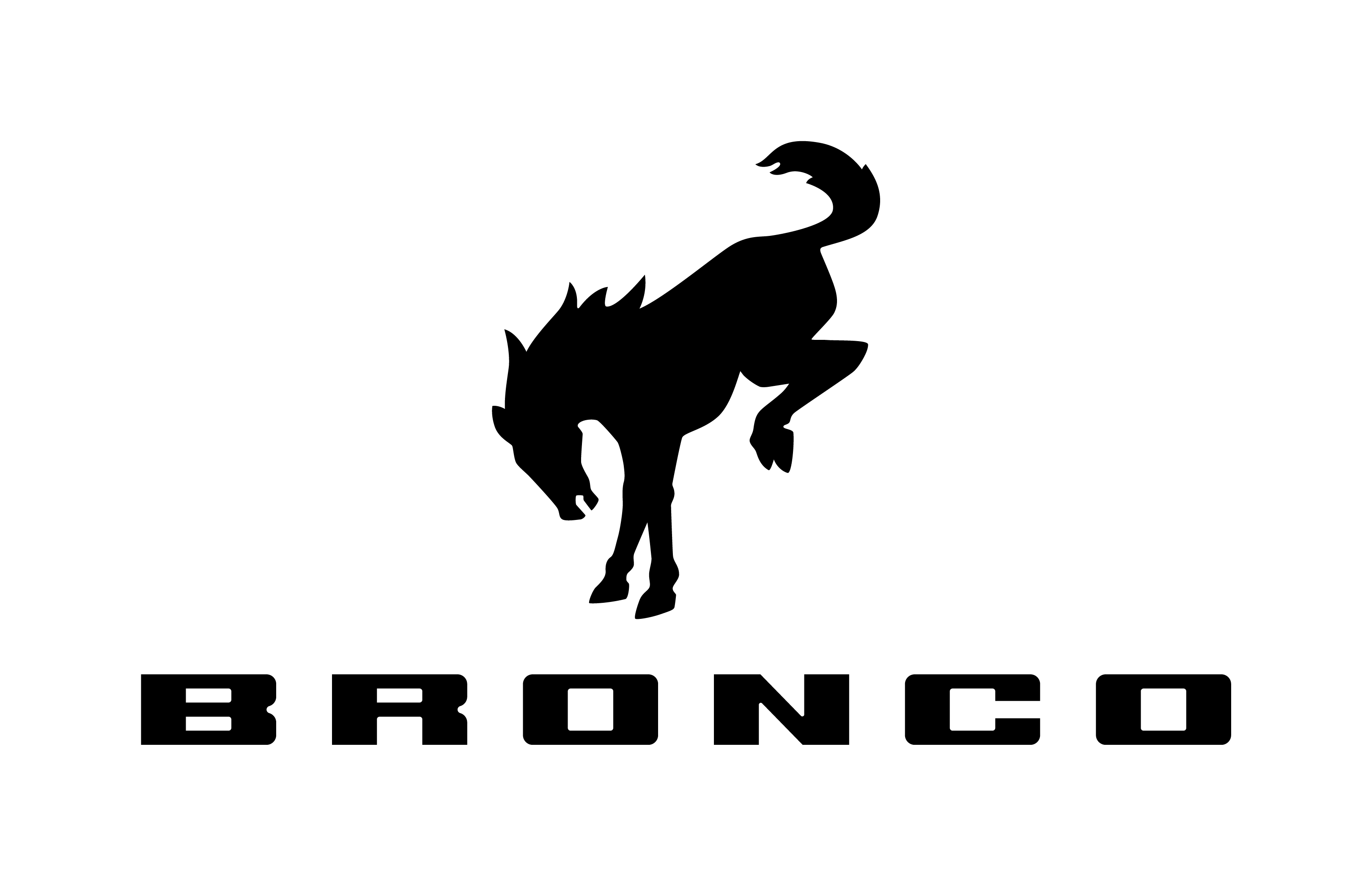 TAKE ACTION
---
Need more information? Contact us!