Please note: We are closed Monday, August 1st for Natal Day, reopening Tuesday, August 2nd.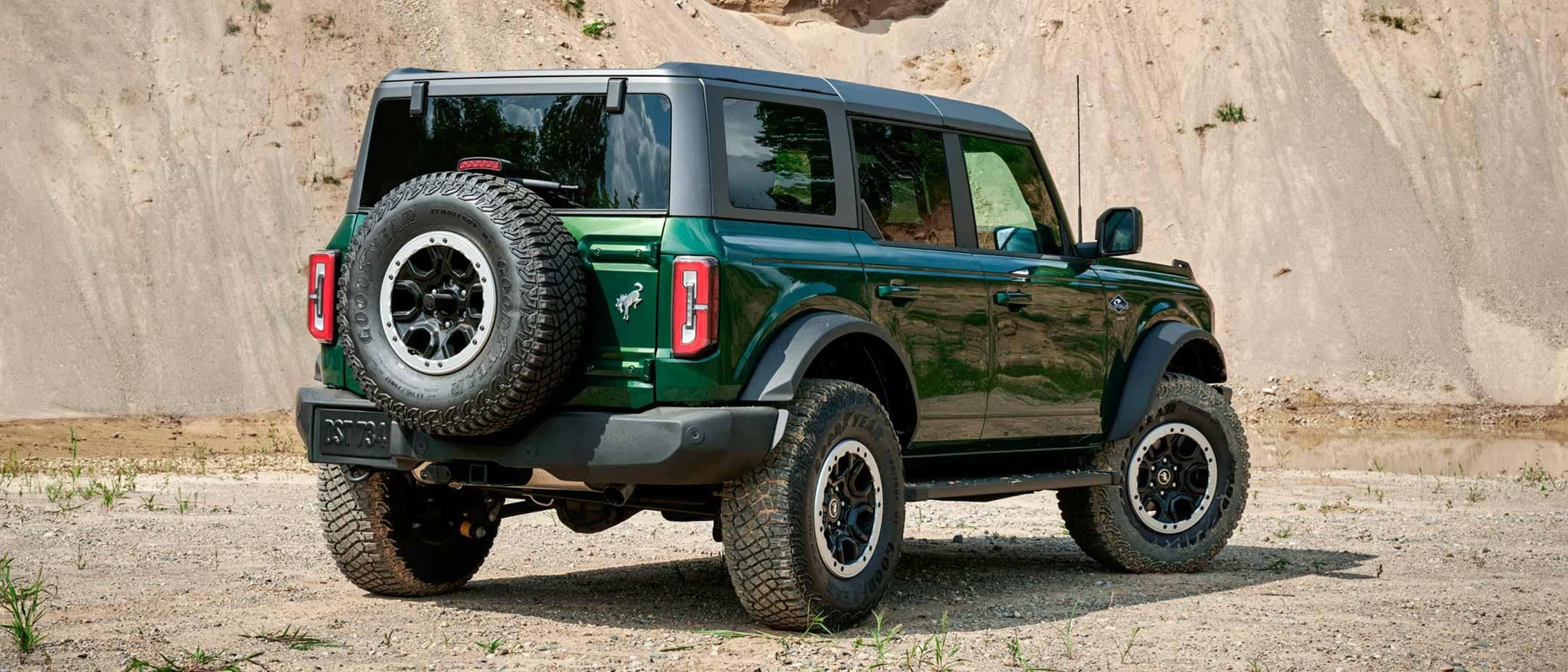 THE LEGENDARY ADVENTURER
Available in 9 versions, the 2023 Ford Bronco is a legend in its own right! Inviting us to follow our own path, whether it's on a wild road or a more stable course, the power and capability of this off-roader will be there. This four-wheel drive is also available with two or four doors that you can remove while keeping your mirrors on. In addition to its 3,500-pound towing capacity with a load capacity of up to 1,370 pounds, this SUV has many optional features and trims and a wide range of configurability.   
Heritage Edition
Designed to pay homage to the 1966 edition, the 2023 Bronco's Heritage and Heritage Limited models are retro in style with red Ford lettering, a white grille, a white roof, a metallic badge and optional leather-trimmed plaid seats for a more luxurious finish. It is available with all Bronco and Bronco Sport configurations. The wheels are also white, with the exception of the Bronco Limited Heritage Edition, which gets black wheels and, in addition, metal exterior badges evoking the original Bronco logos of the 1960s.  
Of course, the regular Bronco's also have their own unique colour list and offer a nostalgic look from the past, with all the modernism that Ford has implanted. 
Refined Performance
The 2023 Ford Bronco is powered by a 2.3-litre turbocharged four-cylinder engine with 300 horsepower that comes standard with a 10-speed automatic transmission or a 7-speed manual transmission. An optional 330-horsepower, twin-turbocharged 2.7-litre V6 engine with automatic transmission. Every Bronco sends power to all four wheels and has an independent front suspension. Add a touch of capability with optional 35-inch off-road tires (standard 17-inch) compatible with differential locks, electronically locking front and rear differentials and a moving sway bar disconnect feature, and you'll get an idea of the vehicle's exceptional capabilities. 
The most enthusiastic will go for the new Raptor version instead. In addition to the unique off-road performance suspension, the Bronco Raptor features a 3-liter EcoBoost V6. A lighter engine, but one that doesn't have to be ashamed of its performance thanks to its twin turbochargers. With peak values of 418 horsepower and 440 lb-ft, the reworked block specifically for the Bronco (intake, cooling and electronic management) displays exceptional performance. 
Safety on all Terrains
The 2023 Ford Bronco is the king of off-roading. Its high ground clearance allows it to get over any obstacle, but it's the GOAT system that gives it the ability to tackle any type of trail. 
With a simple knob, it is possible to modify the capabilities of the vehicle and its all-wheel drive to allow it to cross muddy trails, snowy roads or, in the most refined versions, rocky and difficult-to-access trails. A long list of equipment, as well as a display of off-road data, such as approach angles, are available in the multi-function display. 
A refined version of the navigation system, called Trail Control, also allows you to manage speed even in the most difficult areas. 
With Ford's CoPilot 360 suite, drivers and passengers will always be safe no matter what roads and highways they travel. Including a suite of driver assistance technologies such as automatic emergency braking, automatic high beams and hill start assist as standard. For added protection, more advanced features such as Adaptive Cruise Control, Lane Keeping Assist, Blind Spot Monitoring and Rear Cross Traffic Alert are available as options. 
The 2023 Bronco's dashboard features a base 8-inch and optional 12-inch touchscreen infotainment display. It includes Ford's Sync 4 software that allows for over-the-air update configurations and can connect wirelessly to the cloud or the driver's smartphone. Apple CarPlay, Android Auto, a Wi-Fi hotspot and 6 speakers are built into the SUV. It also includes auxiliary switches with pre-installed wiring for light bars or winches, and a 360 camera system to help navigate dangerous trails and a built-in dash rack for cell phones or GoPro.  
Ready for an adventure? With its killer looks, optional removable roof, and exceptional capabilities, the 2023 Ford Bronco will take you to the ends of the earth and maybe even further! 
TO REMEMBER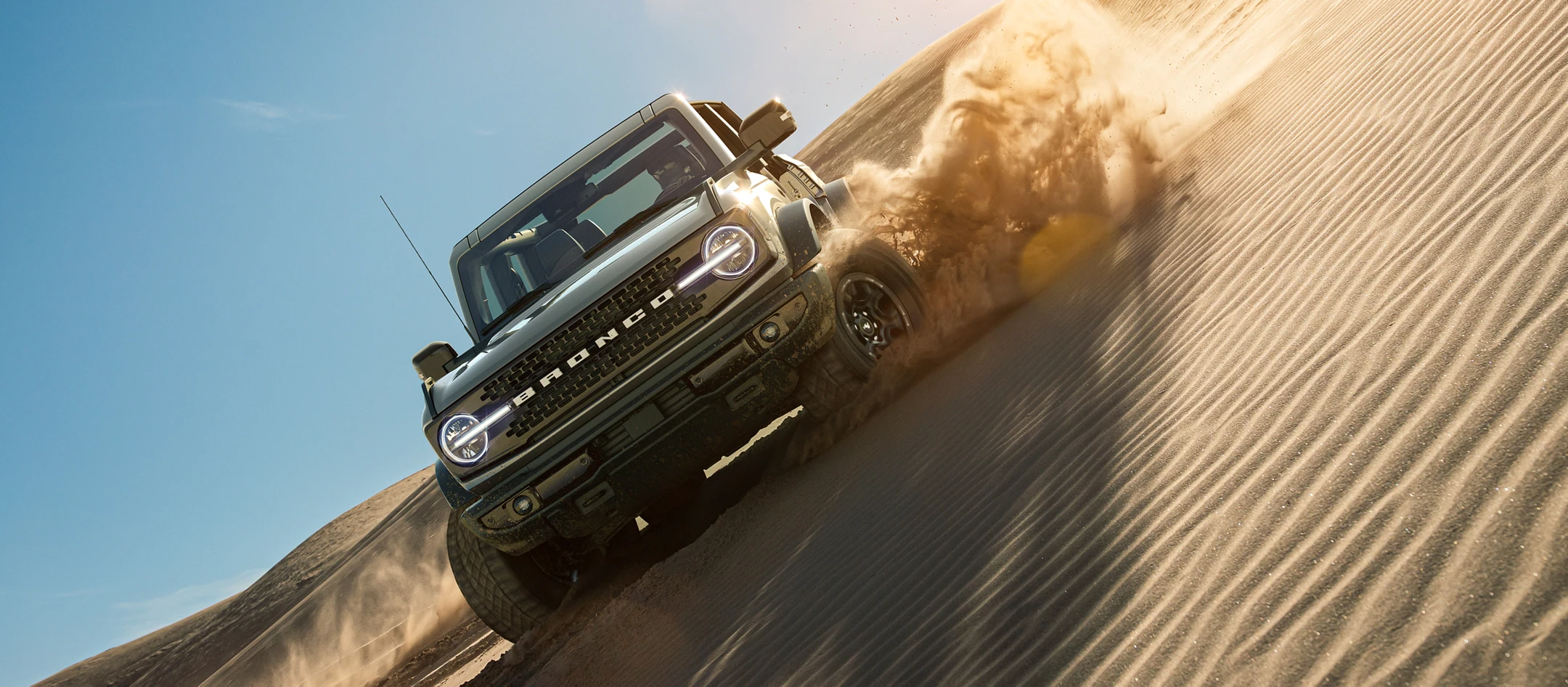 Seating for 5
6 models: Base, Big Bend, Black Diamond, Outer Banks, Badlands and Wildtrak
2 or 4 doors
Removable Roof and Doors
2.3L EcoBoost® Engine or 2.7L EcoBoost® Engine (requires automatic transmission)
7-Speed Manual Transmission or 10-Speed Automatic Transmission
Selectable G.O.A.T Modes
House tires up to 35 inches from factory (optional)
SYNC4 infotainment system
Customizable with hundreds of Ford accessories
Starting at $43,199
Need more information? Contact us!