Please note: We are closed Monday, August 1st for Natal Day, reopening Tuesday, August 2nd.
2023 F-150
More Efficient Than Ever
The 2023 Ford F-150 still dominates the pickup truck market. It's the best seller in its category and so popular that it's also the best-selling vehicle in America, all categories combined. This success is due to the truck's distinct and muscular shape but also to its exceptional capabilities and solid construction.
Let's remember, and 2023 is no exception. The Ford F-150 is a work truck with the highest level of comfort and the best new technologies. Its multiple variants also allow it to respond precisely to the needs of everyone, whether on the job site or for the family.
Built on a military-grade aluminum structure, it is strong and durable and has proven itself. It also has an impressive array of engines and features that put it over the top.
For the new year, the big news is the arrival of a Raptor R version, even more powerful with its 700 horsepower and exceptional off-road suspensions. Heritage versions, reminiscent of the model's 75th anniversary, and Rattler, a more accessible version of the Tremor off-road version, are also in the catalogue.
Multiple Choices
What sets the Ford F-150 apart is its multiple layout options. The cab can be single, double or Super Crew, while the cargo box is available in 5.5, 6 or 8 feet long, with or without a protective coating.
Even under the hood, there are many choices. Depending on your needs and power requirements, the F-150 offers one of two powertrains: the 290-horsepower 3.3-litre 6-cylinder, the 400-horsepower 5.0-litre V8, the 325-horsepower 2.7-liter twin-turbocharged V6, and the 400-horsepower 3.5-litre twin-turbocharged. All are mated to a 10-speed automatic transmission. Both two- and four-wheel-drive versions are available.
A hybrid version, called Powerboost, pairs its gasoline engine with a small electric motor, making it more economical without compromising its efficiency. And let's not forget the Ford Lightning, a 100% electric version that deserves more explanation on its own.
Comfort and Safety
The 2023 Ford F-150's long list of safety features is impressive, multiplying onboard driving aids. For example, it offers access to Blue Cruise, a hands-free driving system available under certain conditions. All the elements of CoPilot360 are also available.
In terms of comfort, the F-150 offers a Sync4-based infotainment system, the most advanced in its class. It has an onboard generator whose power varies according to the version chosen. Finally, the spacious cockpit features ample clearance, several storage spaces, and small additions like a driver's seat that folds flat for total comfort or a retractable transmission lever that can be transformed into a work table.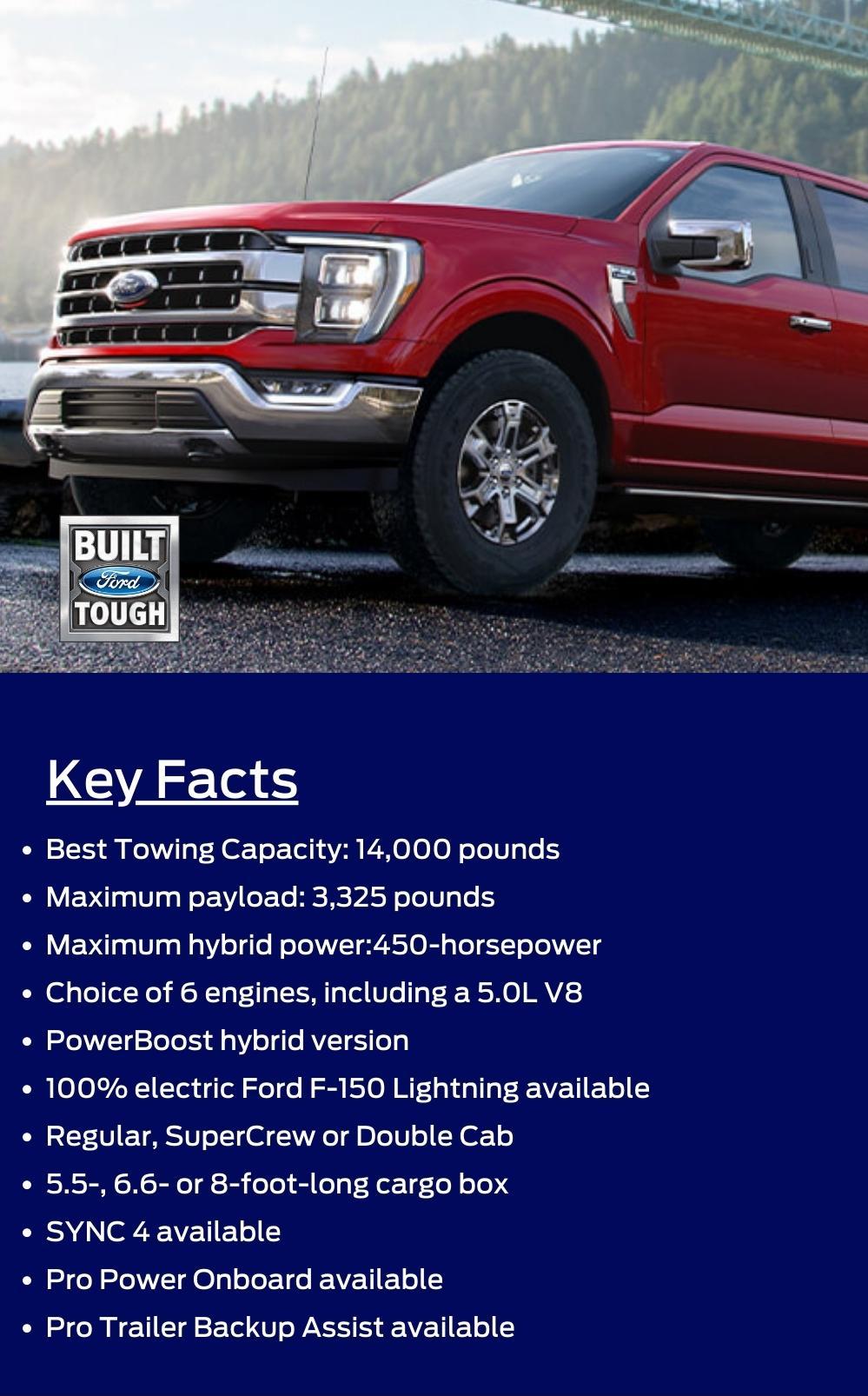 Efficient, powerful, and tough, the 2023 Ford F-150 is, more than ever, the perfect vehicle for the worker and his family.